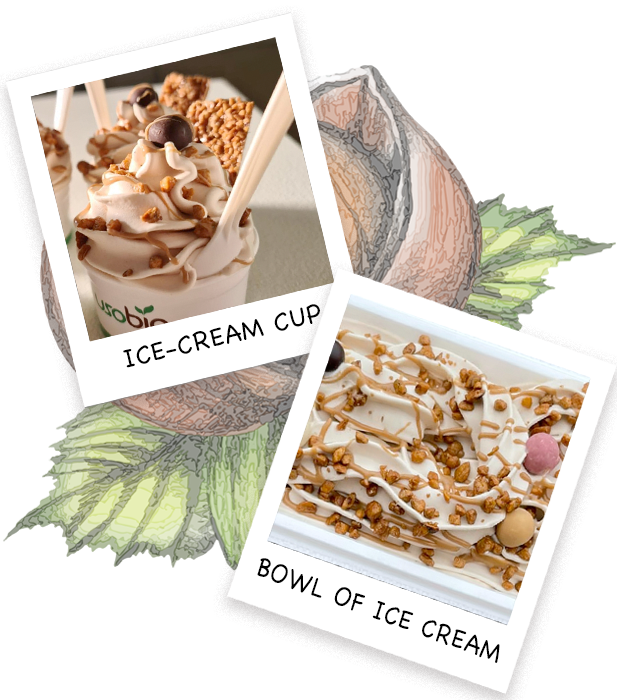 A 'Royal' (Regale) Ice cream
A traditional PGI Hazelnut Ice Cream.
Our home-made hazelnut ice cream comes from gluttony and the desire to discover new familiar flavours.
You can come and enjoy our ice cream at our premises or buy tubs to be tasted at home!!!
WE ARE OPEN EVERY DAY FROM 8.00 AM TO 6.00 PM
Everything started when…
It all started when we were lent an ice cream maker and gathered as a family in a playful way and with the desire to create something new, began to make the first experiments, and between tastings, opinions of friends and relatives we slowly began to perfect it until we reached the creaminess, softness, flavour, and crunchiness that distinguish it today.
An explosion of flavour and texture that will thrill you!
When we saw that our friends, relatives and some customers were starting to ask for it, we decided to produce it not only for family but for everyone who loves homemade hazelnut ice cream.
So, we bought the first professional machine and decided to make it even more unique by adding and decorating it with praline hazelnut grain, hazelnut brittle and a dash of hazelnut cream, so as to enhance the unique flavour of the PGI Piedmont hazelnut.
Make your desserts even more unique by adding and decorating them with praline hazelnut sprinkles, hazelnutrinkles, and crunchy coated hazelnuts.